October 15th the whole thing started..
As some may know I bought an old Volvo 142 this year and had some plans with it. The 142 was designated SD9 Project "Fridge" because it was the ninth SwedeDemon and I was in no rush to transform it in to a real SD. As time progressed I more and more started to doubt about which way to go with this car. The plans were OK but somehow I couldn't make the plans fit with the overall picture I had of this car. At the same time, also for longer time before, I liked a 242 better. During the year I kept an eye on 242's being for sale but 242's can be pricey and the state of the car is always a guess. That was until I ran in to this abandoned project. The car was stripped already and some work had been done. The positive side was that I had a clear view on the car's shortcomings and as it appeared this car was in very good shape. OK, it wasn't in one piece but if it wanted to be an SD it had to come apart anyway.
I decided to buy the car plus a second car as a spare because it was offered as a package deal. Picked up the parts car October 13th, next day both cars were registered on my name and October 15th I was the happy owner of what should become SD10, the anniversary Demon..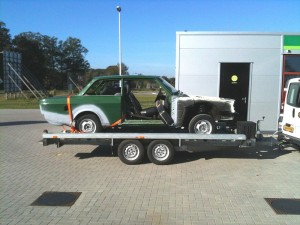 In the weeks after I stripped the interior from the car and also all the loose parts. Tried to do some body work myself but didn't feel I was talented enough to get good results so I contacted a body shop and decided to let them prep and paint the car on the outside. The color will be Volvo White 189, same as most of the numbered SD's I have had before.
November 7 the car was brought to the body shop after which they started working on welding the sun roof shut and ironing out some issues with the welding done by the previous owner. The welding itself was OK but there were some unwanted whobles in the sheet metal. Trim holes on the sides were welded and the doors had a few small rust spots which were taken out and replaced with new sheet metal.
As agreed with the body shop the car isn't a rush project so it is used as a sort of job filler in-between jobs. For this reason the prep work takes a bit longer than usual but the car should be back at my place before X-mas. Even then I think the shop made good progress and December 2 the car was painted in filler plus control layer. Also hood and trunk lid are finished, doors still need to be done.